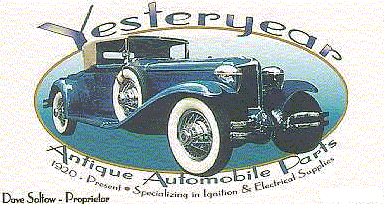 Antique Automotive parts 1920 - Present
"Specializing in Ignition and electrical supplies"
Dave Soltow - Proprietor
P.O. Box 380632
Port Charlotte, FL, 33938 U.S.A
Phone (941) 743-7784, Fax (941) 743-6391
Business Hours M-F 8 AM to 6 PM EST, Sat 8 to 12 Noon - By Chance
We are specialists in ignition systems and electrical parts for a wide range of american cars from 1920 to the present day. Please check out the list of items we carry. We also stock parts for vintage Harley Davidson and Indian motorcycles
We ship USPS daily
Cash, Check or Charge

Our rapidly growing inventory contains the best N.O.S and reproduction parts available. If we don't have your part in stock we will locate it for you. If you would like to check availability of your requirements, please let us know by filling out an online form, and we will let you know availability and prices by email.
<% Application.Lock Set FileObject = Server.CreateObject("Scripting.FileSystemObject") Set HtFile = FileObject.OpenTextFile ("d:\inetpub\wwwroot\counts\yester.txt") Application("yesterhits") = HtFile.Readline If Not IsNumeric(Application("yesterhits")) Then Application("yesterhits") = 1 else Application("yesterhits") = Application("yesterhits") + 1 End if Set OutFile = FileObject.CreateTextFile ("d:\inetpub\wwwroot\counts\yester.txt", TRUE, FALSE) OutFile.WriteLine(application("yesterhits")) Set Outfile = Nothing Set FileObject = Nothing response.write "


Welcome, you are visitor number " & Application("yesterhits") & "

" Application.Unlock %>